Measuring the impact of our work enables us to make an even bigger difference to the stakeholders and communities we work for and puts us in a stronger position to share success stories and lessons learnt for the benefit of society.
We measure the effectiveness of our solutions using the Cambridge Partnership for Education Impact Framework. The Framework concept and creation was led by Dr Hanan Khalifa, our impact and evaluation lead expert in collaboration with a task force of education experts from Cambridge University Press and Assessment and validated externally. It draws on a detailed review of leading approaches to impact in the education reform sector, Cambridge's existing frameworks, and seminal impact and evaluation research.
This Framework provides a mechanism to consistently examine how our work contributes to four domains:
systemic improvement,

capacity development,

sustainable practices and

policy planning and design.
Each of these domains of change is made up of several indicators aligned to areas where we offer technical assistance – like professional development of textbook designers, or assessment effectiveness.
We track impact across the indicators – from immediate effects, such as the number of people trained, to the long-term effects, like the percentage increase in the availability of high-quality resources in a country.
Cambridge has designed these different domains, areas, and indicators so they can be tailored to the scope of your unique programme.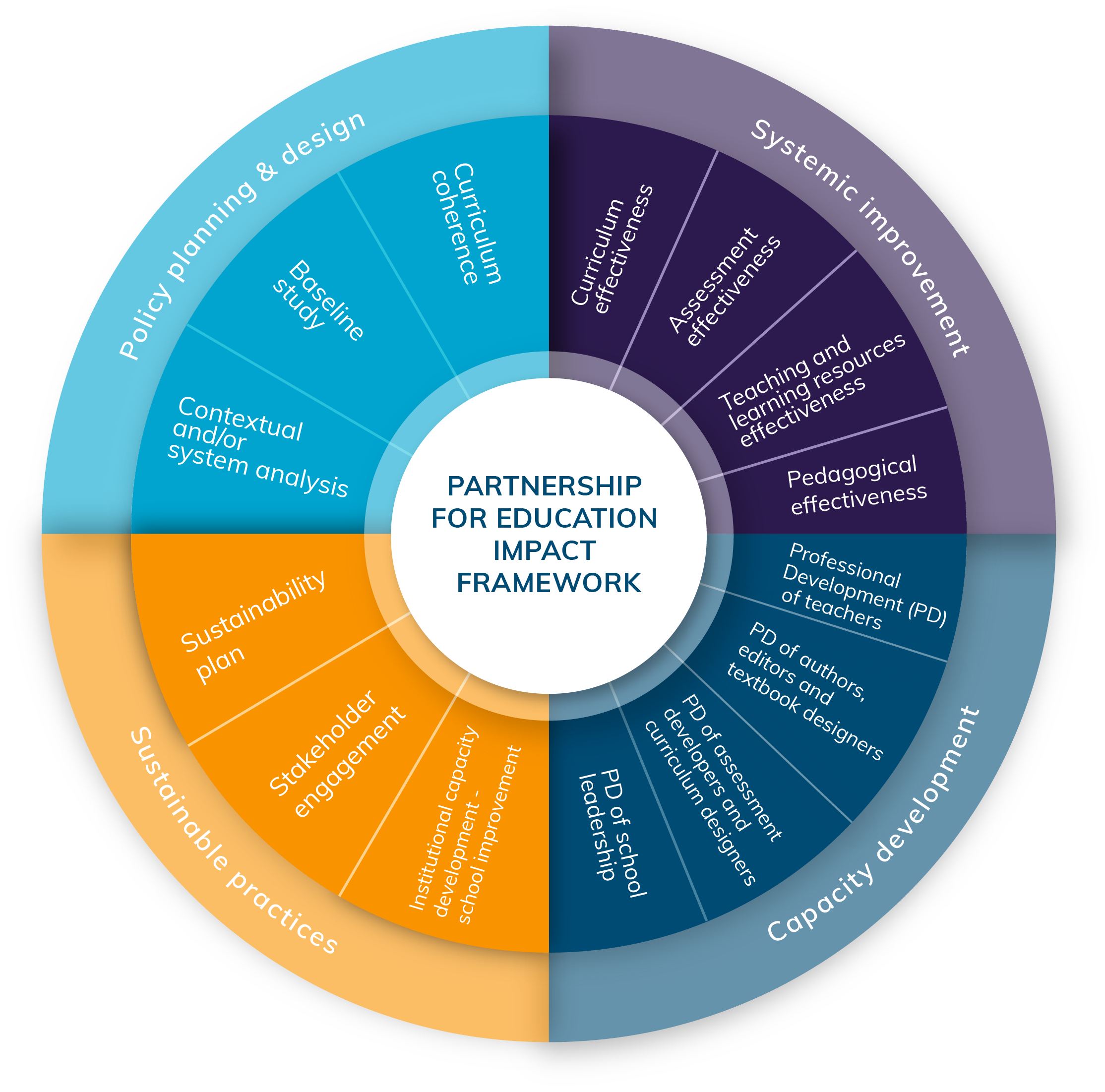 What does this mean for you?
It will be easier to demonstrate results
We will be able to support you with strong data and evidence on the impact of an education reform programme we have partnered on together. This will help you demonstrate results to key stakeholders and the wider public, as well as inform further decision making and policy planning.
See the impact of our work
Our impact studies will provide accessible evidence of the effectiveness of our solutions. This may help inform your decision-making process when deciding how to transform education in your context.
Strengthen the support available to you
We will consistently evaluate and improve our solutions at Cambridge using the Impact Framework. This means we can provide you with increasingly effective options of support to reach your vision for education.
We can better contribute to the UN SDGs
This framework will help ensure projects undertaken with Cambridge Partnership for Education contribute to UN Sustainable Development Goal 4. With just seven and a half years remaining to realise the 2030 agenda, we cannot afford to invest time and resources into programmes which do not impact these shared goals.
Impact in action
Oman Ministry of Education
One of our longest-standing partnerships is with the Sultanate of Oman's Ministry of Education. Together with the Ministry, we have been working to transform Science and Maths teaching and learning throughout K-12.