Home
>
Request Examination Copy
Request examination copy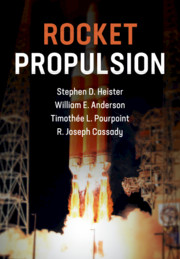 Edition ISBN: 9781108422277
Stephen D. Heister
,

Purdue University, Indiana
,
William E. Anderson
,

Purdue University, Indiana
,
Timothée L. Pourpoint
,

Purdue University, Indiana
,
R. Joseph Cassady
,

Aerojet Rocketdyne
Examination copies are only available to lecturers and instructors for textbooks which are being considered for use as a prescribed text at a teaching or university institution. All examination copies are sent at the discretion of the local sales representative.
We typically allow no more than six examination copies to be requested over a 12 month period. You are welcome to request additional examination copies, however your local sales representative may contact you for further details.
If you are requiring a copy of this title for critical review or other journalistic purposes then please use our request review copy form instead.
You can log in with your existing account or register for an account if you do not have an account.